Bya 38685 Booyah Rig 4 Arm Willow Leaf 3/8oz Fishing Lure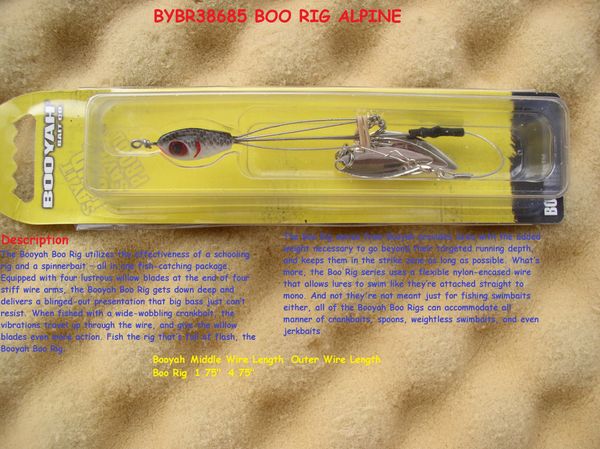 Bya 38685 Booyah Rig 4 Arm Willow Leaf 3/8oz Fishing Lure
Bya 38685 Booyah Rig 4 Arm Willow Leaf 3/8oz Fishing Lure

Description

The Booyah Boo Rig utilizes the effectiveness of a schooling rig and a spinnerbait – all in one fish-catching package. Equipped with four lustrous willow blades at the end of four stiff wire arms, the Booyah Boo Rig gets down deep and delivers a blinged-out presentation that big bass just can't resist. When fished with a wide-wobbling crankbait, the vibrations travel up through the wire, and give the willow blades even more action. Fish the rig that's full of flash, the Booyah Boo Rig. UPC:719339104197

The Boo Rig series from Booyah provides lures with the added weight necessary to go beyond their targeted running depth, and keeps them in the strike zone as long as possible. What's more, the Boo Rig series uses a flexible nylon-encased wire that allows lures to swim like they're attached straight to mono. And not they're not meant just for fishing swimbaits either, all of the Booyah Boo Rigs can accommodate all manner of crankbaits, spoons, weightless swimbaits, and even jerkbaits.

Booyah Middle Wire Length Outer Wire Length
Boo Rig 1.75" 4.75"