BOOYAH PAD CRASHER Jr. 2in X 1/4oz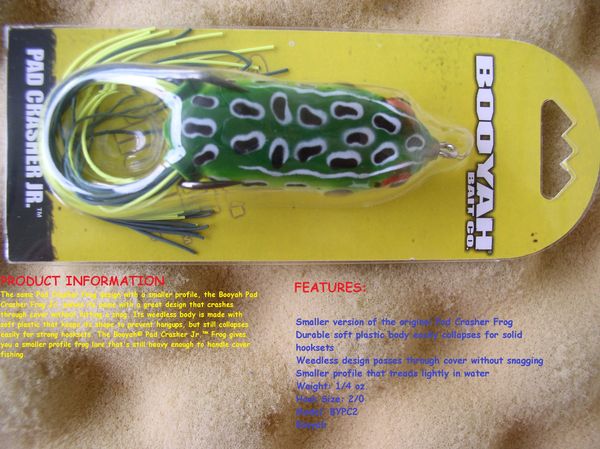 BOOYAH PAD CRASHER Jr. 2in X 1/4oz
BOOYAH PAD CRASHER Jr. 2in X 1/4oz
Description   
The BOOYAH Pad Crasher Jr. Frogs are top water hollow-body frogs that sport a bass boat-style belly which catches water fro the easiest "frog-walking" action in open water. The BOOYAH Pad Crasher Jr.'s flow-thru design drains the lure with every twitch, preventing it from taking on water, catching weeds, and sinking. A rugged double hook and interior weighting system assure positive hookups. They work effectively in the slop and walk back and forth like a spook in open water. UPC:719339102407, UPC:719339102377, UPC:719339102384, UPC:719339102391, UPC:719339102421, UPC:719339102438
Feature   
Hollow body frog perfect for throwing in the slop and weeds
Body is structured enough to keep the bait 100 percent weedless to come over and across sloppy weed beds
Pad Crasher Jr treads lightly and presents a smaller profile.
PRICES ARE BASED ON WHAT I PAY + $0.50 PER ITEM, SO PRICES MAY VARY FROM ORDER TO ORDER THANK YOU KEN