BOMBER HERKY JERKY SALTWATER RATTLE BAIT CLOSE TO SURFACE 6in X 2.5oz CTS #BHJF6RH RED HEAD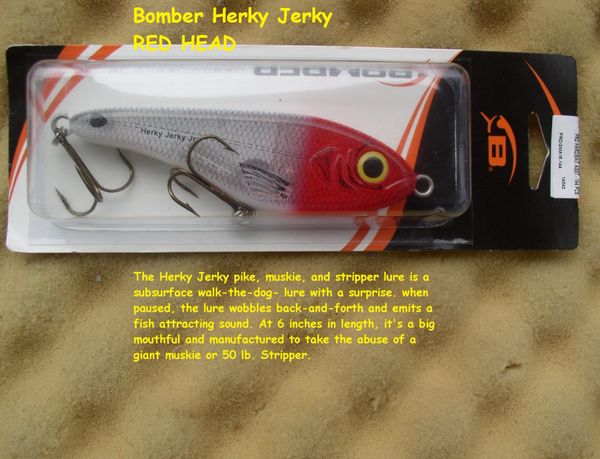 BOMBER HERKY JERKY SALTWATER RATTLE BAIT CLOSE TO SURFACE 6in X 2.5oz CTS #BHJF6RH RED HEAD
BOMBER HERKY JERKY SALTWATER RATTLE BAIT CLOSE TO SURFACE 6in X 2.5oz CTS #BHJF6RH RED HEAD

DESCRIPTION
The Bomber Herky Jerky CTS (Close-To-Surface) is a subsurface walk-the-dog lure with a surprise - the surprise comes when paused, the lure wobbles back-and-forth and emits a fish attracting sound. The Herky Jerky CTS rides just under the surface, walking the dog just like a wounded or panicked baitfish. This lure is great for Bass, Stripper, Pike and Muskie fishing. Come 1 per package.
UPC:020554071035

FEATURES

TECHNICAL SPECS

The Bomber Herky Jerky CTS:
1 per Package
Hook Size: 2/0
6" Long
Cranking Depth: 1-4 ft
Remember FREE Shipping on orders of $25 or more!