BOMBER BSW17J JOINTED MAGNUM LONG A SALTWATER CRANK BAIT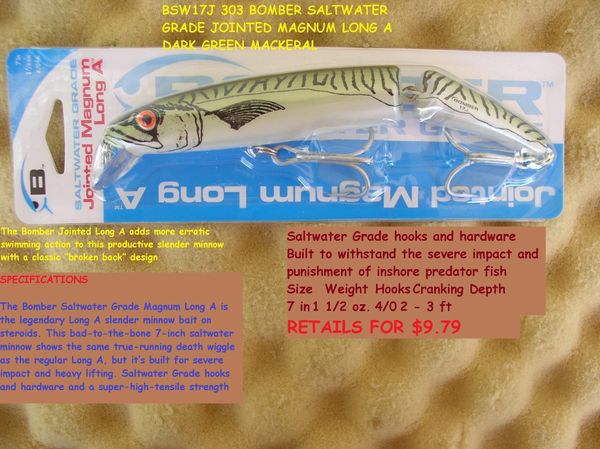 BOMBER BSW17J JOINTED MAGNUM LONG A SALTWATER CRANK BAIT
BOMBER BSW17J JOINTED MAGNUM LONG A SALTWATER CRANK BAIT

Big in size and absolutely massive in strike-inducing action.
Description
This up sized Long A is jointed to kick out more wounded-bait fish swimming motion than any other saltwater hard bait in its class. Plus, it's built to excel in any saltwater test, featuring a virtually indestructible poly carbonate body rigged with super-duty saltwater-grade hooks, hangers and split rings.

UPC:032256228327
Features:
Saltwater grade hardware
Poly carbonate body
Hook size: 4/0
Trolling depth: 4 - 8 ft.
Cranking depth: 2 - 3 ft.
Suggested use: Tarpon, Barracuda, Bluefish, Snapper, Grouper, Stripper, King Mackerel

Bomber fishing lures offer a full range of crank baits, minnows, jerk baits, plugs and Slab Spoons to give you the right bait for any job. With durable construction and reliable productivity, Bomber fishing lures are known for bringing in trophy fish. It's no surprise that these saltwater and freshwater fishing lures have become a top choice among competitive anglers.

For bass fishing, walleye fishing, trout fishing, and more, if you want a fishing lure with convincing action that big fish will eagerly attack, choose a Bomber.
Remember FREE Shipping on orders of $25 or more!