BOMBER BSW A-SALT CERTIFIED DEPTH BSWCD25XS104 SILVER FLASH / RED HEAD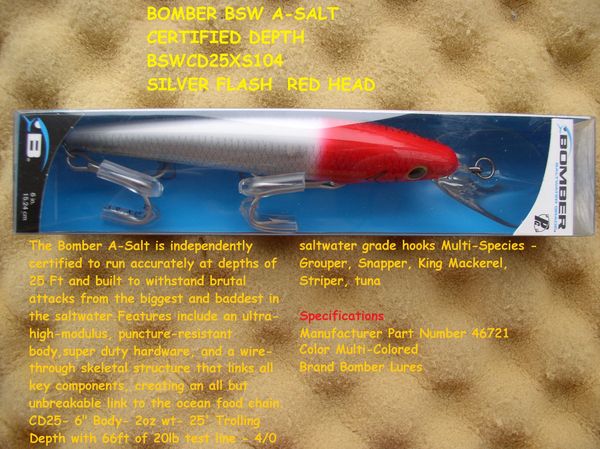 BOMBER BSW A-SALT CERTIFIED DEPTH BSWCD25XS104 SILVER FLASH / RED HEAD
BOMBER BSW A-SALT CERTIFIED DEPTH BSWCD25XS104 SILVER FLASH / RED HEAD

CD (Certified Depth) Body Weight: 2 oz Hook Size: 4/0 Saltwater Trolling Depth: 25 ft
Description:

The Bomber A-Salt is independently certified to run accurately at depths of 25 Ft and built to withstand brutal attacks from the biggest and baddest in the saltwater.Features include an ultra- high-modulus, puncture-resistant body,super duty hardware, and a wire-through skeletal structure that links all key components, creating an all but unbreakable link to the ocean food chain. CD25- 6" Body- 2oz wt- 25' Trolling Depth with 66ft of 20lb test line - 4/0 saltwater grade hooks Multi-Species - Grouper, Snapper, King Mackerel, Striper, tuna.
Specifications
Manufacturer Part Number 46721
Color Multi-Colored
Brand Bomber Lures
UPC:032256226972
Remember FREE Shipping on orders of $25 or more!