BOMBER BADONK-A-DONK SALTWATER GRADE 4in 3/4oz TOP WATER WITH RATTLE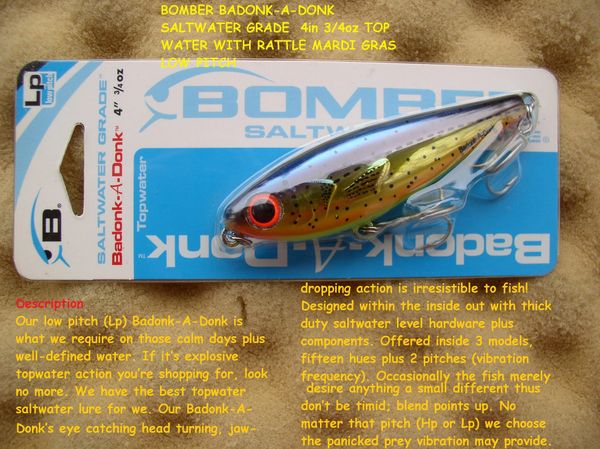 BOMBER BADONK-A-DONK SALTWATER GRADE 4in 3/4oz TOP WATER WITH RATTLE
BOMBER BADONK-A-DONK SALTWATER GRADE 4in 3/4oz TOP WATER WITH RATTLES

Description
Look no more. We have the ultimate top water saltwater lure for you. Our Badonk-A-Donk's eye catching head turning, jaw-dropping action is irresistible to fish! Designed from the inside out with heavy duty saltwater grade hardware and components. Offered in three sizes, fifteen colors and two pitches (vibration frequency). Sometimes the fish just want something a little different so don't be timid; mix things up.
UPC:032256238630, UPC:032256238692, UPC:032256238432, UPC:032256238692
Remember FREE Shipping on orders of $25 or more!