BLUE FOX WHIP TAIL KIT# BFWT0K5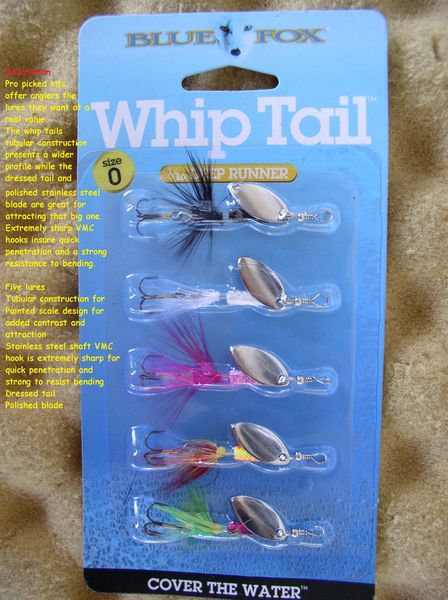 BLUE FOX WHIP TAIL KIT# BFWT0K5
BLUE FOX WHIP TAIL KIT# BFWT0K5
FOLLOW ME ON TWITTER
Typically ships within 1 to 4 Hours!

Description:

Pro picked kits offer anglers the lures they want at a real value.
The whip tails tubular construction presents a wider profile while the dressed tail and polished stainless steel blade are great for attracting that big one. Extremely sharp VMC hooks insure quick penetration and a strong resistance to bending.
UPC:027752113574,UPC:027752055126, UPC:027752110146, UPC:042965220291

Crushing the Bass on Blue Fox Spinner - Harbor Fishing 
Five lures
Tubular construction for wider profile
Painted scale design for added contrast and attraction
Stainless steel shaft VMC hook is extremely sharp for quick penetration and strong to resist bending
Dressed tail
Polished blade
PRICES ARE BASED ON WHAT I PAY + $0.50 PER ITEM, SO PRICES MAY VARY FROM ORDER TO ORDER THANK YOU KEN