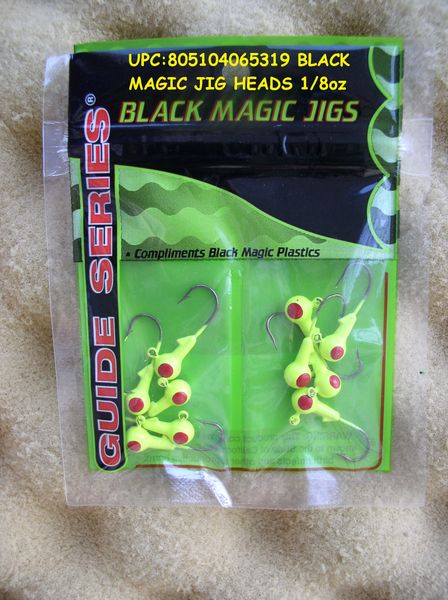 BLACK MAGIC JIG HEADS
BLACK MAGIC JIG HEADS

Description:

Black's Magic Jig Heads are what everyone in the fishing world has been talking about! Capt. Aubrey Black and Capt. Sally Black, veteran fishing guides and lodge owners at Baffin Bay Rod and Gun, have worked with Terry Oldham, "The Godfather" of the "Screw-Lock" system to create a state-of-the-art jig head with Gamakatsu hooks in a variety of sizes.
MADE IN TEXAS, they've been called "revolutionary" by beginner and seasoned anglers alike.
Just twist the plastic bait onto the jig head by "screwing" them on to the spring. Softer baits stay on longer and all plastics work better by having less hook in their bodies constraining their natural action.
Start using this revolutionary jig head and we guarantee "Once you go Black's, you won't go back to any other jig head on the market today!"
SPECS: BM-JIGS-02 CHARTREUSE
UPC:805104065319
Remember FREE Shipping on orders of $25 or more!