Big Foot Livewell Aerator Timer #BF-LWS-V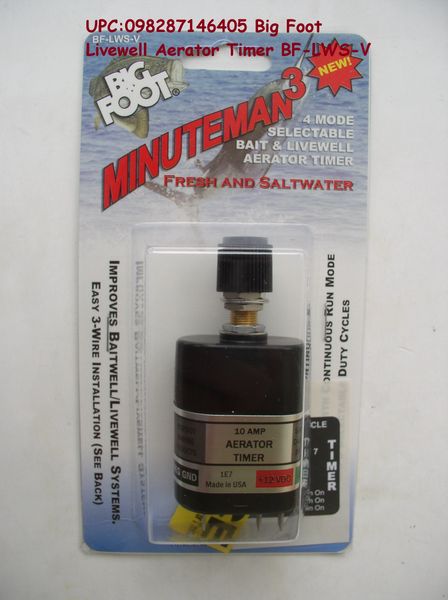 Big Foot Livewell Aerator Timer #BF-LWS-V
Big Foot Livewell Aerator Timer #BF-LWS-V
FOLLOW ME ON TWITTER
Typically ships within 1 to 4 Hours!
Description
10 amp variable livewell aerator timer. Continuous mode for filling livewell. Capacity to run multiple pumps. Easy installation. UPC:098287146405
MFG# BF-LWS-V BFLWSV
MORE ELECTRICAL / DEVICES HOOKS FROM LAND OF LURES  

Features:
BIGFOOT MINUTEMAN 3 VARIABLE LIVEWELL AERATOR TIMER4-mode selectable bait & livewell aerator timer. Improves baitwell/livewell systems. Easy 3-wire installation - installs in place of standard switch.
4-position switch w/continuous run mode plus 3 select able duty cycles
(1=1 min. Off/1 Min. On;
3=3 min. Off/1 Min. On;
7=7 min. Off/1 Min. On).
Handles up to 10 AMP load. For fresh & salt water.

PRICES ARE BASED ON WHAT I PAY + $0.50 PER ITEM, SO PRICES MAY VARY FROM ORDER TO ORDER THANK YOU KEN