Berkley Trilene XT 8 LB Monofilament Filler Spool Solar Green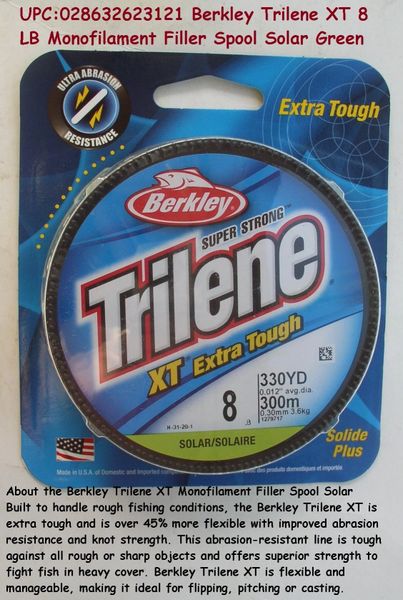 Berkley Trilene XT 8 LB Monofilament Filler Spool Solar Green
Berkley Trilene XT 8 LB Monofilament Filler Spool Solar Green

FOLLOW ME ON TWITTER
Typically ships within 1 to 4 Hours!
Description:
About the Berkley Trilene XT Monofilament Filler Spool Solar
Built to handle rough fishing conditions, the Berkley Trilene XT is extra tough and is over 45% more flexible with improved abrasion resistance and knot strength. This abrasion-resistant line is tough against all rough or sharp objects and offers superior strength to fight fish in heavy cover. Berkley Trilene XT is flexible and manageable, making it ideal for flipping, pitching or casting. 
UPC:028632623121
Features:
    Extra Tough for Ultra Abrasion Resistance
    Superior Strength to Fight Fish in Heavy Cover
    Tough Against all Rough or Sharp Objects
    Tough, Flexible & Manageable
    Packaging: Filler Spools
    Color: Solar

PRICES ARE BASED ON WHAT I PAY + 10% PER ITEM, SO PRICES MAY VARY FROM ORDER TO ORDER THANK YOU KEN