Berkley Powerbait Pit Boss Soft Bait 4 Inch Length, Skeets (Green Money), Package Of 8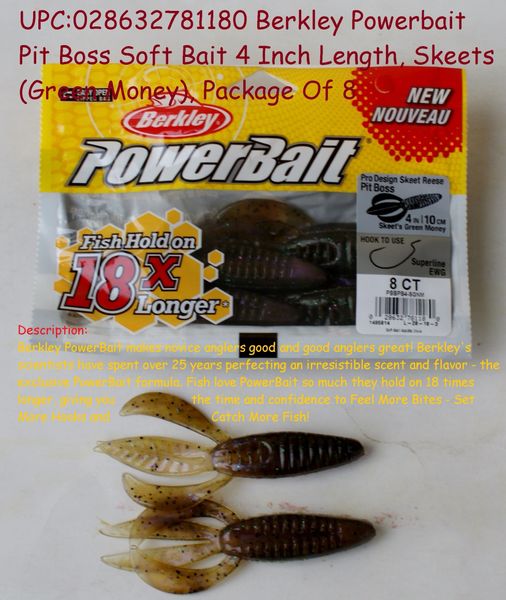 Berkley Powerbait Pit Boss Soft Bait 4 Inch Length, Skeets (Green Money), Package Of 8
Berkley Powerbait Pit Boss Soft Bait 4 Inch Length, Skeets (Green Money), Package Of 8
Description: 
 Berkley PowerBait makes novice anglers good and good anglers great! Berkley's scientists have spent over 25 years perfecting an irresistible scent and flavor - the exclusive PowerBait formula. Fish love PowerBait so much they hold on 18 times longer, giving you the time and confidence to Feel More Bites - Set More Hooks and Catch More Fish!    UPC:028632781180, UPC:028632767801

My New Favorite Soft Plastic: Berkley Havoc Pit Boss!
NEW Berkley PowerBait- Pit Boss (Pro Tip Video with Skeet Reese)

Features:
- The ever-popular Skeet Reese design has been taken to the next level
- Designed to mimic both bait fish and craw fish
- The unique swimming action makes this bait irresistible
- Awesome flippin' bait
Specifications:
- Length: 4"
- Color: Green Money, California.
- Quantity: Package of 8
- 4" Length, Skeets Ghost Money, Package of 8

PRICES ARE BASED ON WHAT I PAY + 10% PER ITEM, SO PRICES MAY VARY FROM ORDER TO ORDER THANK YOU KEN