BERKLEY POWERBAIT CHIGGER CRAW #PBBCHC3-WM WATERMELON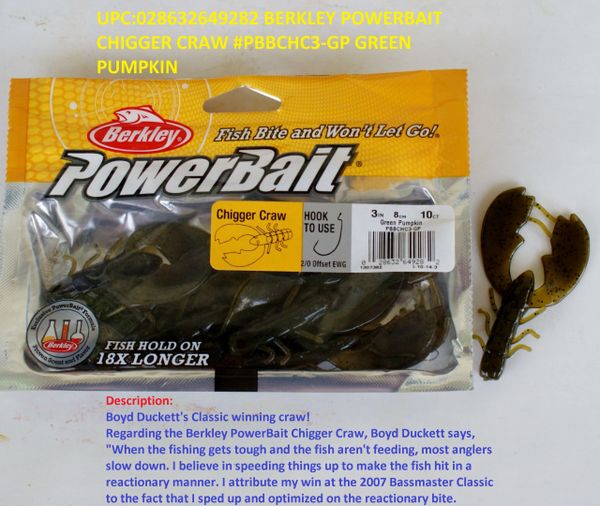 BERKLEY POWERBAIT CHIGGER CRAW #PBBCHC3-WM WATERMELON
BERKLEY POWERBAIT CHIGGER CRAW #PBBCHC3-WM WATERMELON
Description:
High action pincher's and the magic of PowerBait fish attracting scent formula makes it completely irresistible to bass. Fish it alone, or as a jig trailer, slow, or fast, and watch the pincher's swim wildly back and forth driving bass crazy. UPC:028632649305, UPC:028632649282
SPECS: PBBCHC3-WM WATERMELON 10-PACK
VIDEO HOW TO USE THE CHIGGER CRAW https://youtu.be/48_VmWaHb2M

Boyd Duckett's Classic winning craw!
Regarding the Berkley PowerBait Chigger Craw, Boyd Duckett says, "When the fishing gets tough and the fish aren't feeding, most anglers slow down. I believe in speeding things up to make the fish hit in a reactionary manner. I attribute my win at the 2007 Bassmaster Classic to the fact that I sped up and optimized on the reactionary bite. To do this, I will rig a Chigger Craw onto a 1 or 1-1/2 oz. weight and pitch it into the heavy grass, trees, etc. The special design makes the arms flap really quickly. The speed of the bait going down through the water column and the fast action of the arms will draw that reactionary bite you're looking for!" Try it on a jig, Texas or Carolina rig, or weightless—deadly!  BERKLEY PRODUCTS
MORE SOFT BAITS https://www.pinterest.com/landoflures/soft-plastic-baits/
Special design
Flapping arms draw strikes
Add a weight to get a reactionary bite
2007 Bassmaster Classic champ Boyd Duckett flipped a Berkley Chigger Craw, Texas-rigged on 65-pound braid with a 1-oz. tungsten weight and a 5/0 hook. The wind had pushed the vegetation into tight mats, so a heavy weight was needed to punch through the cover and get the craw in front of the big largemouth that were shading underneath. As it turned out, the Chigger Craw caught the two biggest bass of the tournament!