BERKLEY PBBSS3-PRE PEARL RED EYE PRE-RIGGED POWER BAIT SWIM SHAD BAIT 3 in / 8 cm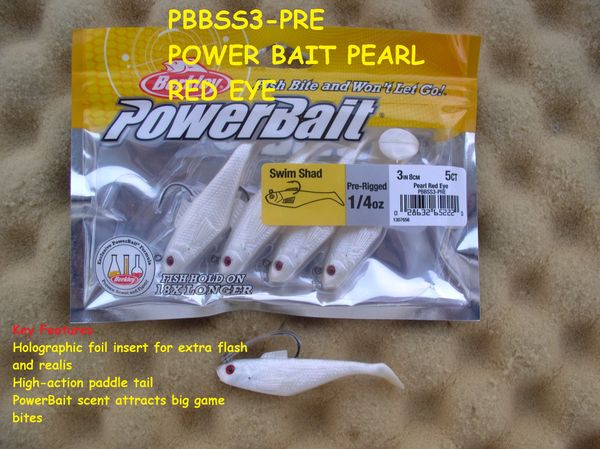 BERKLEY PBBSS3-PRE PEARL RED EYE PRE-RIGGED POWER BAIT SWIM SHAD BAIT 3 in / 8 cm
BERKLEY PBBSS3-PRE PEARL RED EYE PRE-RIGGED POWER BAIT SWIM SHAD BAIT 3 in / 8 cm
FOLLOW ME ON PINTEREST
Description:
This swim shad bait is loaded with Power Bait fish attractant. This soft swim bait is designed to tempt any fish. It is designed with a holographic foil insert for extra flash and realism. Features high-action paddle tail premium hook. 
UPC:028632652220
Available in pearl red eye color. Measures 3-inch length.
Brand: Berkley
Model: PBBSS3-PRE PEARL RED EYE
Part Number: 1307656
REMEMBER YOU CAN ALWAYS RENT A ROD & REEL FROM LAND OF LURES    
Features:
Swim shad swim bait is loaded with Power Bait fish attractant
Designed to tempt any fish
Complete with a holographic foil insert for extra flash and realism
Features high-action paddle tail
premium hook
PRICES ARE BASED ON WHAT I PAY + $0.50 PER ITEM, SO PRICES MAY VARY FROM ORDER TO ORDER THANK YOU KEN