BERKLEY GJFP58-CLCR BASS GRIPPER Jay's FLIPPIN JIG HARD BAIT, CLASSIC CRAW, 5/8oz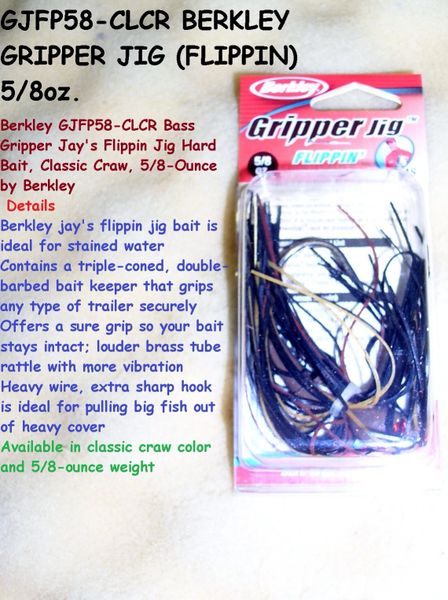 BERKLEY GJFP58-CLCR BASS GRIPPER Jay's FLIPPIN JIG HARD BAIT, CLASSIC CRAW, 5/8oz
BERKLEY GJFP58-CLCR BASS GRIPPER Jay's FLIPPIN JIG HARD BAIT, CLASSIC CRAW, 5/8oz

Details
Berkley jay's flippin jig bait is ideal for stained water
Contains a triple-coned, double-barbed bait keeper that grips any type of trailer securely
Offers a sure grip so your bait stays intact; louder brass tube rattle with more vibration
Heavy wire, extra sharp hook is ideal for pulling big fish out of heavy cover
Available in classic craw color and 5/8-ounce weight.
UPC:028632555170
These item features:

Triple coned, double barbed bait keeper grips trailer secure - even Berkley Gulp
Ideal football head design and line tie placement allows jig to mimic live prey crawling on rock bottom
Medium wire hook and flexible hook guard allow for better hook up at greater depths and on longer casts
" The Football Jig is the ultimate in jig fishing when bass are clinging to rocks. Drag the jig along the bottom to feel rock or other cover - stop retrieve and shake rod tip to make Power Bait trailer dance. This will trigger more strikes. Works year round in both clear and muddy water. "

Hank Parker Sure Grip! Bait Won't Slip!

Made in China

Remember FREE Shipping on orders of $25 or more!