BERKLEY 5 in HAVOC PIT BOSS GREEN PUMPKIN HVMPPB5-GP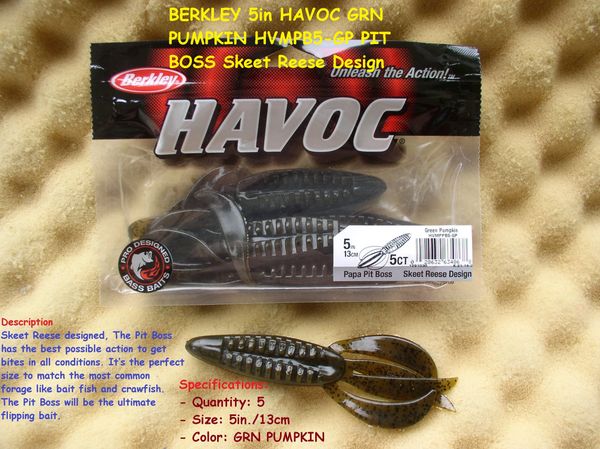 BERKLEY 5 in HAVOC PIT BOSS GREEN PUMPKIN HVMPPB5-GP
BERKLEY 5 in HAVOC PIT BOSS GREEN PUMPKIN HVMPPB5-GP
DETAILS

One of my favorite ways to fish is with a flippin' stick. I've won over $3,000,000 and a lot of that has come from the flippin' technique. I designed the "Pit Boss" to mimic bait fish as well as crawfish. It's the perfect size to match the most common forage sizes and has the best possible action to get bites in all conditions. This is my new go-to bait to dominate the tour. When you tie this bait on, you better hold on because you are fixin' to start jackin' them!
UPC:028632634868
Sizes:
3" - 10 per pack
4" - 8 per pack
5" - 5 per pack
Berkley innovation together with professional bass angler experience has resulted in a new soft bait series that is poised to wreak havoc in the bass lure market. In fact, that is what Berkley is naming its new, action series of professionally designed soft bait shapes, Havoc. Berkley scientists have connected with some of the top professional bass anglers to develop new worms, lizards, craw and other unique baits and trailers that anglers, and especially bass, have never seen before. These unique soft bait shapes are designed with specific actions that will give them the edge to catch more fish and win more tournaments!
Remember FREE Shipping on orders of $25 or more!