Attwood Marine 66261L3 TRAILER EYE U BOLT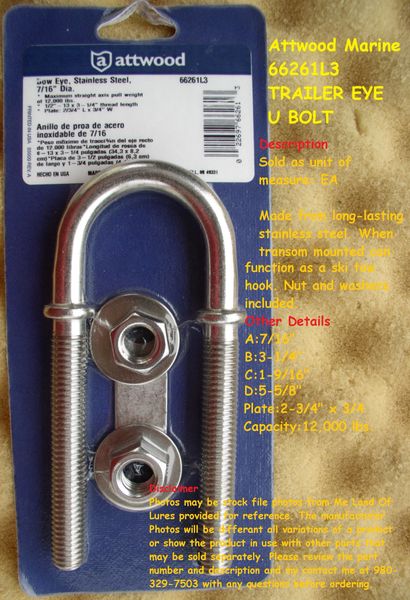 Attwood Marine 66261L3 TRAILER EYE U BOLT
Attwood Marine 66261L3 TRAILER EYE U BOLT

Description
Sold as unit of measure: EA
Made from long-lasting stainless steel. When transom mounted can function as a ski tow hook. Nut and washers included. UPC:022697662613
Other Details
A:7/16"
B:3-1/4"
C:1-9/16"
D:5-5/8"
Plate:2-3/4" x 3/4
Capacity:12,000 lbs.
Disclaimer
Photos may be stock file photos from Me Land Of Lures provided for reference. The manufacturer Photos will be differant all variations of a product or show the product in use with other parts that may be sold separately. Please review the part number and description and my contact me at 980-329-7503 with any questions before ordering.
Remember FREE Shipping on orders of $25 or more!