ARBOGAST JOINTED JITTERBUG 5/8 OZ X 4 INCH #1 TREBLE HOOKS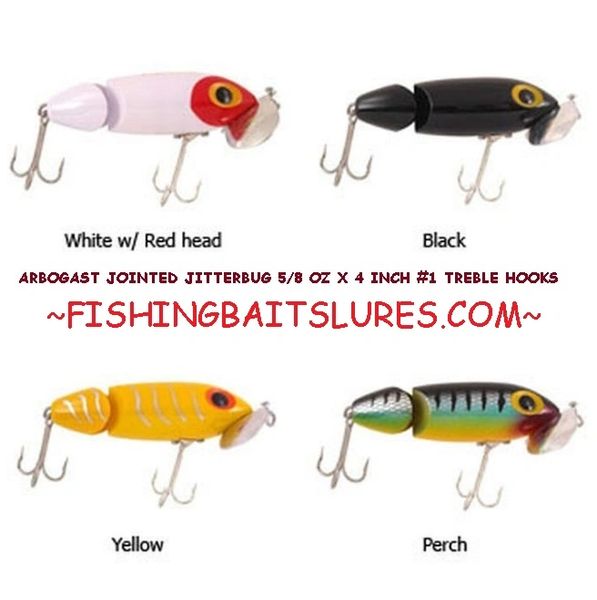 ARBOGAST JOINTED JITTERBUG 5/8 OZ X 4 INCH #1 TREBLE HOOKS
ARBOGAST JOINTED JITTERBUG 5/8 OZ X 4 INCH #1 TREBLE HOOKS
Description:
Features a double cupped lip which creates a loud paddling sound which has fooled thousands of bass. Jointed for extra action. 4" long. #1 treble hooks. UPC:027004016301, UPC:027004022920, UPC:027004016202

Jitterbug Fishing: Bass & Catfish https://youtu.be/bA1xmJ3e0t0

Take the classic strike-producing action and sound of the legendary Jitterbug lip and add the tail-wagging action of a jointed lure and you've got action at both ends to attract big bass, pike and other gamefish. The motion of the jointed tail creates a frantic swimming action that provokes lookers into striking. The jointed Jitterbug can be fished slowly to produce the rhythmic plopping sound or quickly to create a more-frantic look.
Special double-cupped lip makes unique "plopping" sound
Tail-wagging action for added fish attraction
Can be fished at any speed
Model Length Weight Depth Hook
G620 2 1/2 in. 3/8 oz. Topwater #5 Treble Hooks
G670 3 1/2 in. 5/8 oz. Topwater #1 Treble Hooks
REMEMBER I MAKE $0.50 OFF ALL ITEMS SO PRICES MAY VARY FROM ORDER TO ORDER THANK YOU KEN
Remember FREE Shipping on orders of $25 or more!