ARBOGAST JITTERBUG TOP WATER BUG 3/8oz X 2.5in Md:G600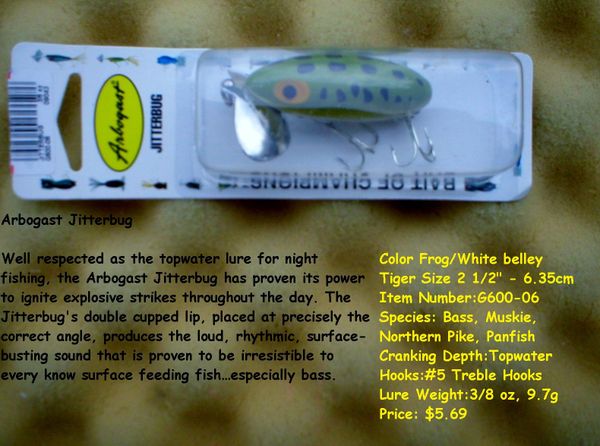 ARBOGAST JITTERBUG TOP WATER BUG 3/8oz X 2.5in Md:G600
ARBOGAST JITTERBUG TOP WATER BUG 3/8oz X 2.5in Md:G600
Description:
The Fred Arbogast line of Jitterbug lures are no doubt the No.1 nighttime top water lures of all time. The Jitterbug is also a productive daytime lure, and because of its configuration trademark, there"s nothing else like a Jitterbug fishing lure. Its double-loped lip, placed at an angle to ensure proper action, creates a loud, paddling sound that's proven to be irresistible to bass for more than 50 years.
Model No. G630 & G635: This size Jitterbug weighs 1/4 ounce, should be used on light spinning gear, and is mainly fished for bass in small ponds and lakes.
UPC:027004006258, UPC:027004007958, UPC:027004007651, UPC:027004006005, UPC:027004006104
Model No. G600 & G605: This is a scaled down version weighing in at 3/8 of an ounce and 2 1/2 inches long, is just the right size to be used with spinning gear, and is deadly when fishing for bass and pike. If the bite is slow, try a start and stop retrieve, moving the lure about 5 ft. between stops. This method will usually attract the non-aggressive fish.

Model No. G650 & G655: This is the standard bait casting size, 5/8 of an ounce and 3 inches long, used by most bass fishermen to make long casts to cover maximum amounts of water. It should be fished on a steady retrieve to create its unique sound and action and is deadly on a large mouth bass when fished at night. These are the two most common models used by fishermen at night.

Model No. G680: This 1/4 ounce Jitterbug has only one double hook attached to the tail section of the lure so it can be fished over weeds and obstructions. It is usually fished in small ponds and lakes that have lots of cover.

Model No. G700: This is the largest of all Jitterbugs, 1 1/4 ounce and 4 1/2 inches long, more commonly known as a musky bug. It is generally used for musky and northern pike when fished in northern waters around shoreline cover and weed beds. This lure should be used with heavy rods and line.

Sizes
G630: 2" - 1/4oz - #6 - trebles hks
G635: w/ Clicker, 2" - 1/4oz - #6 - trebles hks
G600: 2.5" - 3/8oz - #5 trebles hooks
G605: w/ Clicker, 2.5" - 3/8oz - #5 trebles hks
G650: 3" - 5/8oz - #1 treble hks
G655: w/ Clicker, 3" - 5/8oz - #1 treble hks
G680: 1.5" - 3/16oz - #6 trebles hks
G700: Musky, 4.5" - 1.25oz - three #2/0 hks

Remember FREE Shipping on orders of $25 or more!