ARBOGAST HULA POPPER TOP WATER BUG 5/8oz X 3in Md:G750-506 SWAMP FROG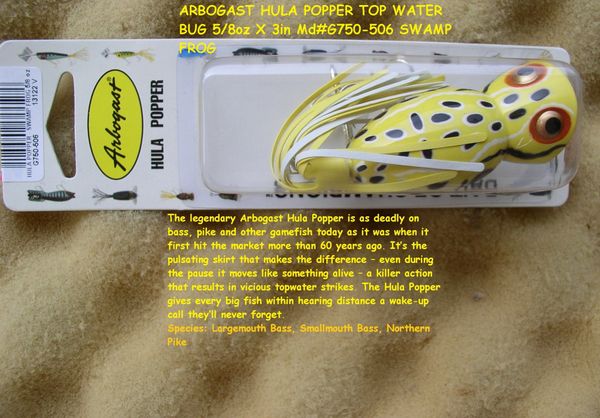 ARBOGAST HULA POPPER TOP WATER BUG 5/8oz X 3in Md:G750-506 SWAMP FROG
ARBOGAST HULA POPPER TOP WATER BUG 5/8oz X 3in Md:G750-506 SWAMP FROG

Description:

The legendary Arbogast Hula Popper is as deadly on bass, pike and other game fish today as it was when it first hit the market more than 60 years ago. The Hula Popper's pulsating skirt makes the difference ?? even during the pause it moves like something alive ?? a killer action that results in vicious top water strikes. The Hula Popper gives every big fish within hearing distance a wake-up call they'll never forget.

Feature
History lives behind Hula Popper top water lure with its pulsating skirt
Deadly when popped over submerged timber weeds or grass beds
Hula Popper noise wakes up any fish within hearing distance
UPC:027004205521
Remember FREE Shipping on orders of $25 or more!