ALL TERRAIN TACKLE GRASS MASTER WEED JIG ATGJ395 3/4oz KILLER PUMPKIN SEED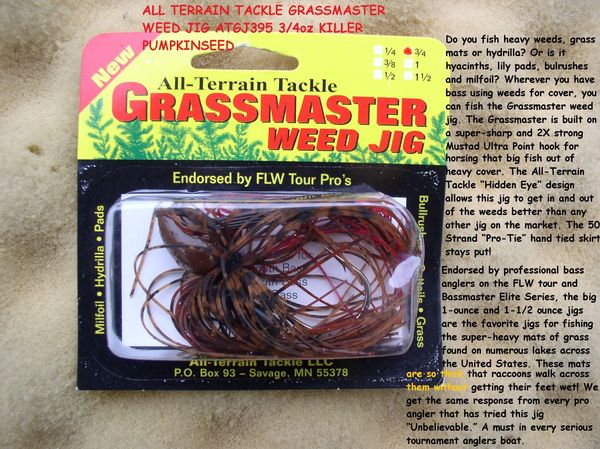 ALL TERRAIN TACKLE GRASS MASTER WEED JIG ATGJ395 3/4oz KILLER PUMPKIN SEED

ALL TERRAIN TACKLE GRASS MASTER WEED JIG ATGJ395 3/4oz KILLER PUMPKIN SEED

$4.29

Do you fish heavy weeds, grass mats or hydrilla? Or is it hyacinths, lily pads, bulrushes and milfoil? Wherever you have bass using weeds for cover, you can fish the Grassmaster weed jig. The Grassmaster is built on a super-sharp and 2X strong Mustad Ultra Point® hook for horsing that big fish out of heavy cover. The All-Terrain Tackle "Hidden Eye" design allows this jig to get in and out of the weeds better than any other jig on the market. The 50 Strand "Pro-Tie" hand tied skirt stays put!  UPC:836946003955, UPC:836946004709, UPC:836946005171

Endorsed by professional bass anglers on the FLW tour and Bassmaster Elite Series, the big 1-ounce and 1-1/2 ounce jigs are the favorite jigs for fishing the super-heavy mats of grass found on numerous lakes across the United States. These mats are so thick that raccoons walk across them without getting their feet wet! We get the same response from every pro angler that has tried this jig "Unbelievable." A must in every serious tournament anglers boat.
Remember FREE Shipping on orders of $25 or more!