AHI SABIKI RIG #SB-303 SIZE-4 RAINBOW FLASHER 30/20 LB RIG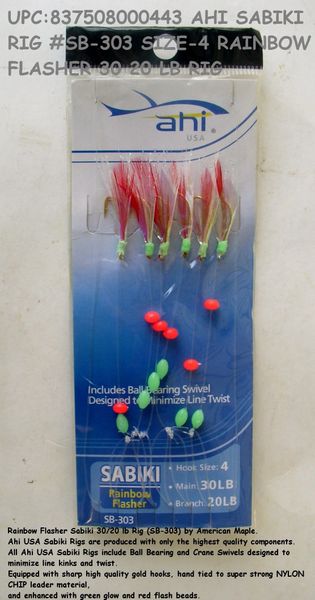 AHI SABIKI RIG #SB-303 SIZE-4 RAINBOW FLASHER 30/20 LB RIG
AHI SABIKI RIG #SB-303 SIZE-4 RAINBOW FLASHER 30/20 LB RIG
FOLLOW ME ON PINTEREST 
Typically ships within 1 to 4 Hours!
Description:
Rainbow Flasher Sabiki 30/20 lb Rig (SB-303) by American Maple.
Ahi USA Sabiki Rigs are produced with only the highest quality components.
All Ahi USA Sabiki Rigs include Ball Bearing and Crane Swivels designed to minimize line kinks and twist.
Equipped with sharp high quality gold hooks, hand tied to super strong NYLON CHIP leader material,
and enhanced with green glow and red flash beads.  UPC:837508000443
Features
    Built to offer excellent functionality and quality
    Extremely durable and easy to put on and remove
    Built to make outdoor recreation more exciting

Specifications:
Main Line/ Branch Line Test: 30/20 lb
Hook Size: 4
Type: Rig
How to use a Sabiki rig to catch bait 

Surf Fishing with Sabiki Rigs?! 

PRICES ARE BASED ON WHAT I PAY + 10% PER ITEM, SO PRICES MAY VARY FROM ORDER TO ORDER THANK YOU KEN