3-MEPPS 3-AGLIA DRESSED TREBLE HOOK SPINNERS SIZE-4 & 5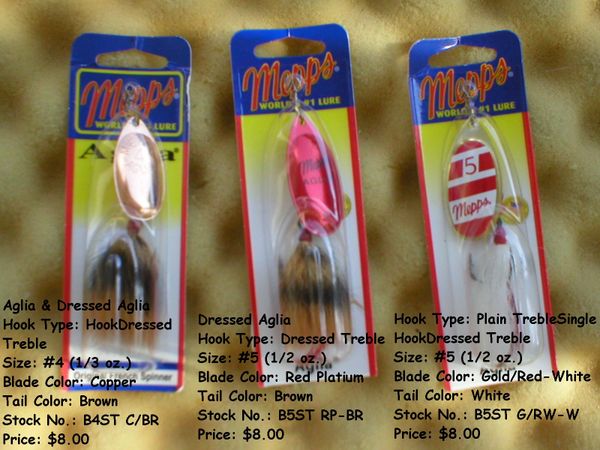 3-MEPPS 3-AGLIA DRESSED TREBLE HOOK SPINNERS SIZE-4 & 5
3-MEPPS 3-AGLIA DRESSED TREBLE HOOK SPINNERS SIZE-4 & 5

DESCRIPTION

Mepps B5ST RP-BR Aglia - Drsd Trbl /Brown 1/2oz Red Platium

Mepps B5ST G/RW-W Aglia - Drsd Trbl /White 1/2oz Gold/Red White
Mepps B4ST C-BR Aglia - Drsd Trbl /Brown 1/2oz Copper

More record fish have been caught on Mepps lures than any other fishing lure, more than all other spinners combined! Our 5000+ spinners and spoons are still hand-made to the same high quality standards that three generations of fishermen have grown to expect.

UPC:022141052441
Key Features

French blade design
Genuine bucktail or squirrel tail
Comet Minos run at mid-depth

Remember FREE Shipping on orders of $25 or more!