2 CYCLE ENGINE OIL OUTBOARD BOATS, CHAINSAW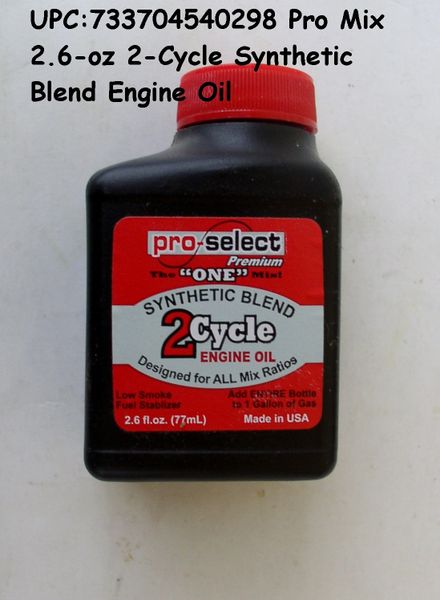 2 CYCLE ENGINE OIL OUTBOARD BOATS, CHAINSAW
2 CYCLE ENGINE OIL OUTBOARD BOATS, CHAINSAW
Advanced formulation allows for a compatibility with all fuel mix ratios,  Contains fuel stabilizer to reduce the risk of engine failure or poor running characteristics,  Noticeable reduction in emissions and exhaust smoke UPC:733704540298, UPC:193028047840, UPC:079567120070
ONE 3 In One 120074 Lock Dry Lube 2.5 Ounce Aerosol

Description:
Key Features
    Small size fits easily into small spaces
    Precise application or wider spray
    Aerosol formula penetrates quickly and deeply to loosen stuck locks
    Leaves long-lasting, corrosion protection film
    Clear, quick-dry formula, won't attract dirt
Lock dry lubricant Clear, quick-drying, premium lock lubricant to loosen and protect all types of stuck locks and designed Not to attract Dirt. Reach into narrow lock mechanism with the attachable straw or use the wider spray pattern to refurbish and protect the entire lock. Dries clear to the touch within minutes and is safe to use on metal, wood and most plastic surfaces.

PRICES ARE BASED ON WHAT I PAY + $0.50 PER ITEM, SO PRICES MAY VARY FROM ORDER TO ORDER THANK YOU KEN