13 FISHING CONCEPT "A" 8.1:1 GR LH BAITCAST REEL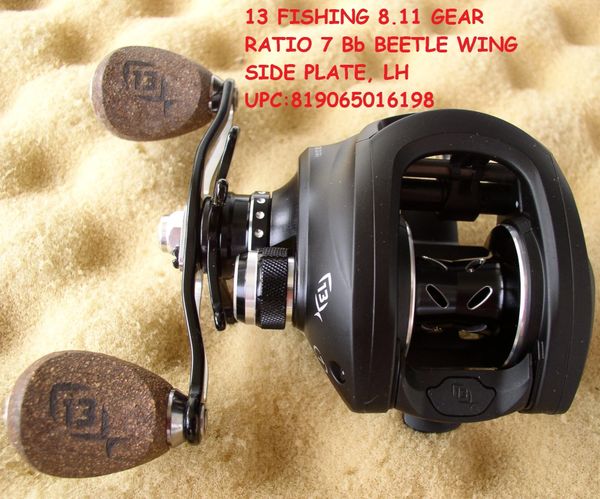 13 FISHING CONCEPT "A" 8.1:1 GR LH BAITCAST REEL
13 FISHING CONCEPT "A" 8.1:1 GR LH BAITCAST REEL

DESCRIPTION
More than just a pretty package, the new and improved 13 Fishing Concept "A" Casting Reels are loaded with the features knowledgeable anglers want. The Concept "A" sports a rugged lightweight aluminum chassis with a design that sits remarkably low on your rod. The streamlined design was built so you could easily wrap your hand around it to maximize comfort and control, and it also features a seven ball bearing system, including 3 anti-corrosion bearings, 3 stainless steel bearings ,and a Dead Stop Anti-Reverse bearing to keep functioning impossibly smooth. UPC:819065016198
13 Fishing's proprietary Arrowhead line guide, 22lb Bulldog drag system, and 6-way centrifugal braking system round out the highlights of this lightweight 6.8oz reel. The new Concept A Reels are also now available in left-hand models, and feature the all new Beetle Wing side plate for easy braking adjustment. Sleek, stylish and sexy, just like you'd expect from 13 Fishing. The new Concept A Casting Reels have arrived.
-Rugged Aluminum Chassis
-Dead Stop Anti-Reverse Bearing
-Arrowhead Line Guide
-22lb Bulldog Drag System
-6-way Centrifugal Braking System
-Lightweight Aluminum Handle
-Concept Cork Handle Knobs
-Beetle Wing Rapid Access System
-Saltwater Approved
Remember FREE Shipping on orders of $25 or more!