THUNDER CRANK MAD FLASH COLOR TC08 347-SILVER BLUE SHAD 2 1/2in 5/16oz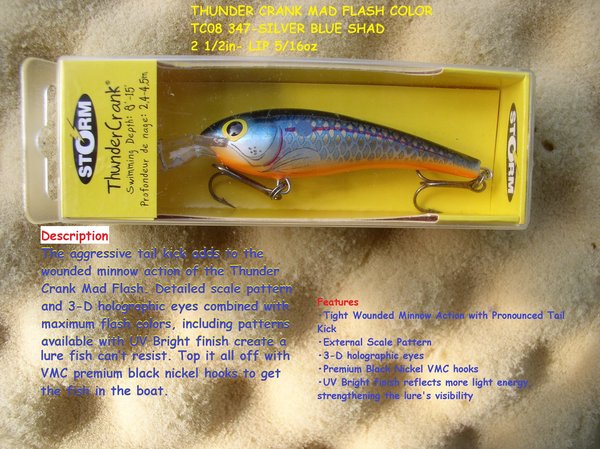 THUNDER CRANK MAD FLASH COLOR TC08 347-SILVER BLUE SHAD 2 1/2in 5/16oz
THUNDER CRANK MAD FLASH COLOR TC08 347-SILVER BLUE SHAD 2 1/2in 5/16oz
Description
The aggressive tail kick adds to the wounded minnow action of the Thunder Crank Mad Flash. Detailed scale pattern and 3-D holographic eyes combined with maximum flash colors, including patterns available with UV Bright finish create a lure fish can't resist. Top it all off with VMC premium black nickel hooks to get the fish in the boat.

Features
•Tight Wounded Minnow Action with Pronounced Tail Kick
•External Scale Pattern
•3-D holographic eyes
•Premium Black Nickel VMC hooks
•UV Bright finish reflects more light energy, strengthening the lure's visibility

Specifications
Model Number Running Depth Body Length Weight
TCM06 5-11 ft. 2-1/2" 5/16 oz.
TCM08 7-13 ft. 3-1/4" 3/8 oz.

Remember FREE Shipping on orders of $25 or more!
Reviews