STRIKE KING BANSHEE SERIES DBAN12WW-498P FROG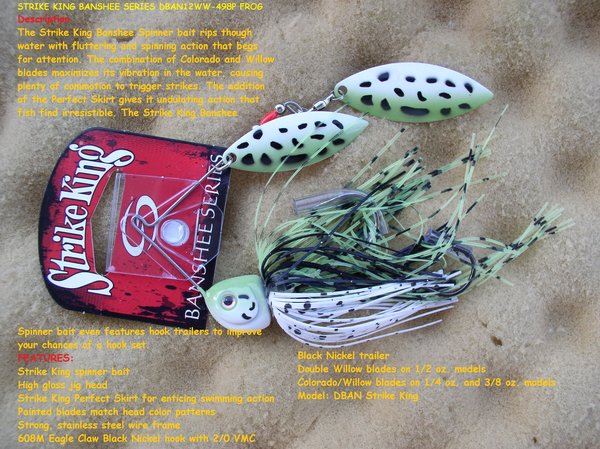 STRIKE KING BANSHEE SERIES DBAN12WW-498P FROG
STRIKE KING BANSHEE SERIES DBAN12WW-498P FROG
Description
The Strike King Banshee Spinner bait rips though water with fluttering and spinning action that begs for attention. The combination of Colorado and Willow blades maximizes its vibration in the water, causing plenty of commotion to trigger strikes. The addition of the Perfect Skirt gives it undulating action that fish find irresistible. The Strike King Banshee Spinner bait even features hook trailers to improve your chances of a hook set.
UPC:051034237368
FEATURES:
Strike King spinner bait
High gloss jig head
Strike King Perfect Skirt for enticing swimming action
Painted blades match head color patterns
Strong, stainless steel wire frame
608M Eagle Claw Black Nickel hook with 2/0 VMC Black Nickel trailer
Double Willow blades on 1/2 oz. models
Colorado/Willow blades on 1/4 oz. and 3/8 oz. models
Model: DBAN
Strike King
Remember FREE Shipping on orders of $25 or more!
Reviews