Rapala DT (Dives-To) Series 4ft TO 6ft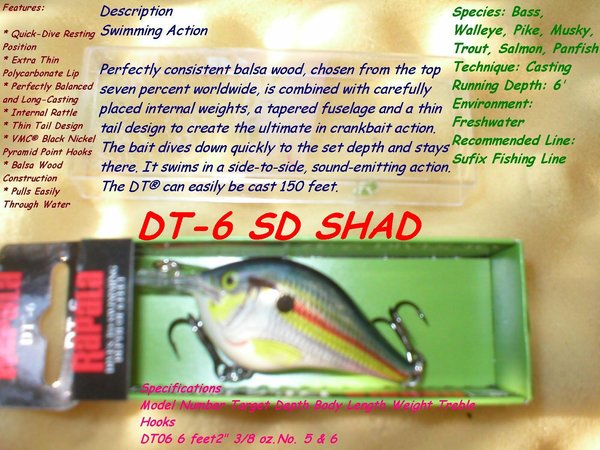 Rapala DT (Dives-To) Series 4ft TO 6ft
Rapala DT (Dives-To) Series 4ft TO 6ft
Description
Rapala DT Series lures, designed by crankbait authority David Fritts, all dive faster and stay in the strike zone longer than any other crankbait on the market. Numerous tournament wins and record catches in the series' maiden year attest to its superior design and fish-catching function. DT Series lures are made from the top seven percent of select balsa wood. Perfectly consistent wood combined with carefully placed internal weights, a tapered fuselage and a thin tail creates the ultimate crankbait action.
UPC:022677092621

DT04 2", 5/16 oz, Two No. 6
DT06 2", 3/8 oz, No. 5 & 6
Below is a quick recap of Swindle's starting lineup for crank baits to cover most sections of the water column along with his preferred line:
> Zero to 6 feet: Rapala DT-6 (10-pound Sunline Shooter fluorocarbon)
> 7 to 10 feet: Rapala DT-10 (10-pound Shooter)
> 10 to 12 feet: Bomber Fat Free Shad (12-pound Shooter)
> 12 to 16 feet: Strike King 6XD (10- or 12-pound Shooter)
> 16 to 20 feet: Strike King 8XD (12-pound Shooter)
> 20 feet or deeper: Strike King 10XD (14-pound Shooter)
IF YOU NEED PICS JUST ASK THANKS KEN
Remember FREE Shipping on orders of $25 or more!
Reviews