RAPALA CLACKIN CRANK CNC-610 GREEN CRAWDAD 10ft X 5/8oz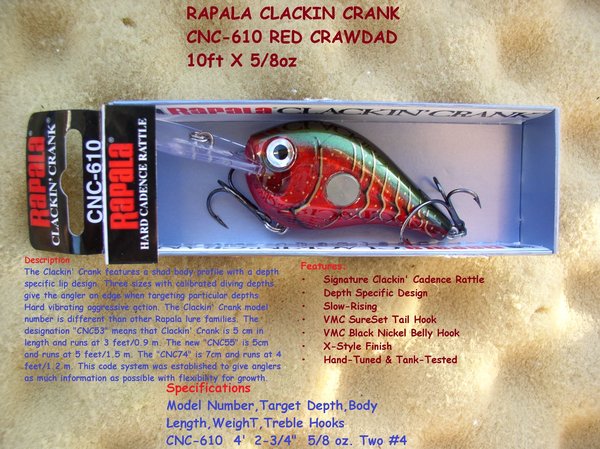 RAPALA CLACKIN CRANK CNC-610 GREEN CRAWDAD 10ft X 5/8oz
RAPALA CLACKIN CRANK CNC-610 GREEN CRAWDAD 10ft X 5/8oz
Description
The Clackin' Crank features a shad body profile with a depth specific lip design. Three sizes with calibrated diving depths give the angler an edge when targeting particular depths. Hard vibrating aggressive action. The Clackin' Crank model number is different than other Rapala lure families.

Features:

• Signature Clackin' Cadence Rattle

• Depth Specific Design

• Slow-Rising

• VMC SureSet Tail Hook

• VMC Black Nickel Belly Hook

• X-Style Finish

• Hand-Tuned & Tank-Tested
Specifications
Model Number,Target Depth,Body Length,WeighT,Treble Hooks
CNC-610 4' 2-3/4" 5/8 oz. Two No. 4
Remember FREE Shipping on orders of $25 or more!
Reviews