MIRROLURE 17MR L&S BAITS MIRRODINE SUSPENDING 2-5/8in 3/8oz ELECTRIC CHICKEN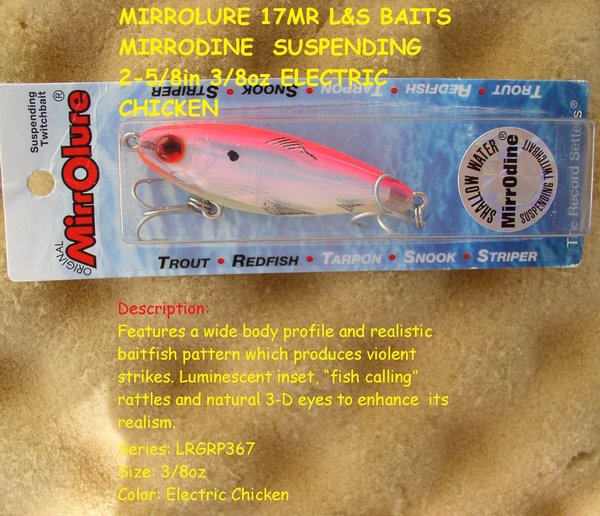 MIRROLURE 17MR L&S BAITS MIRRODINE SUSPENDING 2-5/8in 3/8oz ELECTRIC CHICKEN
MIRROLURE 17MR L&S BAITS MIRRODINE SUSPENDING 2-5/8in 3/8oz ELECTRIC CHICKEN

Description:
Features a wide body profile and realistic bait fish pattern which produces violent strikes. Luminescent inset, "fish calling" rattles and natural 3-D eyes to enhance its realism.
Series: LRGRP367
Size: 3/8oz
Color: Electric Chicken

Manufacturer: Mirrolure / L&S Bait
Model: 17MR-EC
UPC: 042095174402
Remember FREE Shipping on orders of $25 or more!
Reviews