BLUE WATER CANDY 8ozX275lb JAG-A-HOO RIGGED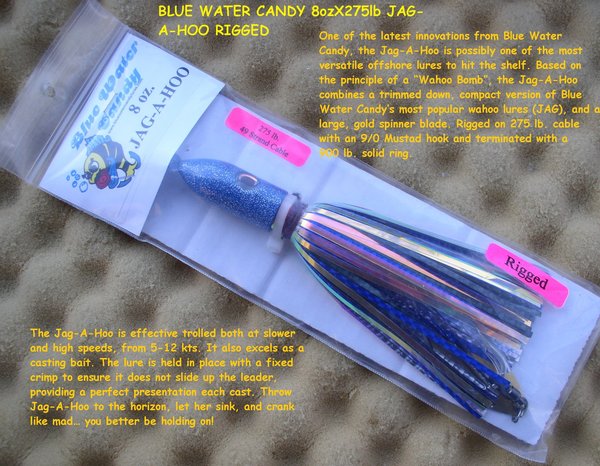 BLUE WATER CANDY 8ozX275lb JAG-A-HOO RIGGED
BLUE WATER CANDY 8ozX275lb JAG-A-HOO RIGGED

One of the latest innovations from Blue Water Candy, the Jag-A-Hoo is possibly one of the most versatile offshore lures to hit the shelf. Based on the principle of a "Wahoo Bomb", the Jag-A-Hoo combines a trimmed down, compact version of Blue Water Candy's most popular wahoo lures (JAG), and a large, gold spinner blade. Rigged on 275 lb. cable with an 9/0 Mustad hook and terminated with a 900 lb. solid ring.
UPC:091533518018
The Jag-A-Hoo is effective trolled both at slower and high speeds, from 5-12 kts. It also excels as a casting bait. The lure is held in place with a fixed crimp to ensure it does not slide up the leader, providing a perfect presentation each cast. Throw Jag-A-Hoo to the horizon, let her sink, and crank like mad… you better be holding on!

Reviews